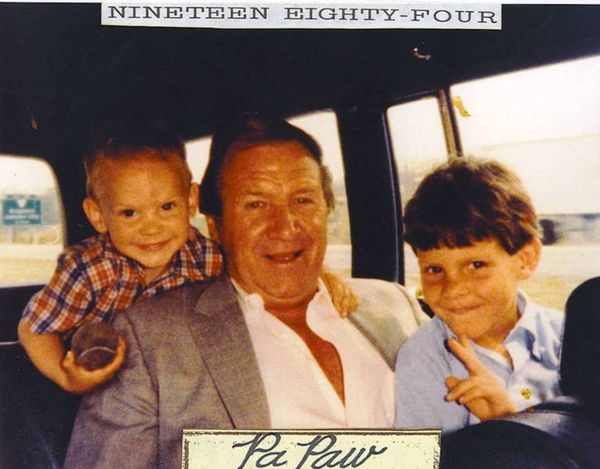 As I mentioned the painting is a creation of my
Papaw
(I am the little guy on the left with the dirty tennis ball ).

HERE IS THE REST OF THE STORY:
My Uncle( Wynston Bland Jr) went to visit his Dad(my Papaw) in Chattanooga in the summer of 1984, and finds him, as usual, working on a very interesting painting. He asked him what it means and Papaw proceeds with this story…..
From 1916 on thru WWII, If a ship was in distress and in need of emergency help, he would send up flares to attract the attention of any ship that may be close enough to see them. The flares meant, "HELP!!! I am deeply damaged, and without help, I cannot make it." When that ship saw the flares, he would run up two flags…. Alpha over India, shine a spot light on those flags, and move towards the ship that was calling out for help...FULL SPEED AHEAD! The meaning of the flags, Alpha over India, is "Coming along side to assist…I will not abandon you...I shall keep by you!
After hearing this explanation, Uncle Wynston said...
"Dad, this is the story of hope!!!The mast is the shape of the cross…and Jesus is saying those things to you and anyone else,
No matter what you have done or will do I will never abandon you!!!!"
My Papaw was a Navy man(he fought in WWII),an architect, artist, poet, in fact he is one of the most talented men I have ever known, but even with all that talent he needed help and Jesus saw his flairs of distress and saved his life.
We all have times in our life when bad decisions, wrong turns or just trying to do everything on our own finds us- down ,stressed out, and on the brink of giving up. I just want you to know that Jesus is coming alongside to assist you and
HE WILL NEVER ABANDON YOU.

www.wynstonblandart.com